News
News
The IEMA Brochure is now available to download here.
The IEMA Post-doctoral Scholar Position 2017-2018 at SUNY Buffalo has been posted. Please see the Jobs section for more information.
Information about the 2017 IEMA Travel and Research Scholarship is available here.
The deadline for applications is Friday, March 10, 2017 at 4:30  p.m.
Upcoming Lectures presented by IEMA:
SPRING 2017
AIA Lecture co-sponsored by IEMA and The Houghton Chapter, NYSAA
Dr. Lothar von Falkenhausen
Trying to Do the Right Thing to Protect the World's Cultural Heritage: One Committee Member's Tale
Wednesday, March 29, 2017 5:00pm in the Goetz Library
Dr. Sophie Moore (Brown University)
Early Christianity on the Konya Plain? Evidence from Çatalhöyük
Wednesday, April 5, 2017 12:00-1:00 MFAC 354
Dr. Klaus Oeggl (Institute of Botany at the University of Innsbruck)
The Neolithic Glacier Mummy 'Otzi': His Life Circumstances and Environment
Monday, April 10, 2017 4:00-5:00 MFAC 354
Dr. Jana Anvari (Flinders University)
New stories on old buildings: recent work on the architecture of the Chalcolithic Çatalhöyük West Mound, Turkey
Wednesday, April 12, 2017 12:00-1:00 MFAC 354
Brown Bag Lecture
Nathaniel Durant
Scythia Minor, lost and found: Predictive modeling in a late Roman province
&
Heather Rosch
Filling the gap: Attempting to Understand more about Neolithic Western Anatolia through Architecture
Wednesday, April 26, 2017 12:00-1:00 MFAC 354
Brown Bag Lecture
Valerie Long
4,000 Years Under the Volcano: Archaeological Excavation at Stromboli, Italy
&
Ashlee Hart
Establishing 'Ceramic Identity': preliminary Results and Future Research at Emporion Pistiros, Bulgaria
Wednesday, May 3, 2017 12:00-1:00 MFAC 354
FALL 2016
Dr. Emily Holt (Museum National d'Histoire Naturelle, Paris, former IEMA Postdoctoral Fellow)
A Zooarchaeological Approach to Central Mediterranean Connectivity 1700-300 BCE
Monday, September 26, 2016 12:30-1:30 MFAC 352
AIA Lecture co-sponsored by IEMA and The Houghton Chapter, NYSAA
Professor Gregory Aldrete (University of Wisconsin – Green Bay)
The Eternal City Goes Under: Floods of the Tiber in Ancient Rome
Wednesday, September 28, 2016 5:00pm Goetz Library, MFAC 320
Dr. Arnau Garcia (IEMA Postdoctoral Fellow 2016-2017)
Archaeology of Mountain Landscapes: Interdisciplinary Research Strategies of Agro-Pastoralism in Upland Regions
Wednesday, October 5, 2016 12:00-1:00 MFAC 354
Dr. Monica Ramsey (University of Toronto)
Risk, Reliability and Resilience: Phytolith Evidence for Alternative 'Neolithization' Pathways at Kharaneh IV in the Azraq Basin, Jordan. 
Brown Bag Lecture
We would like to welcome our 10th IEMA Postdoctoral Fellow: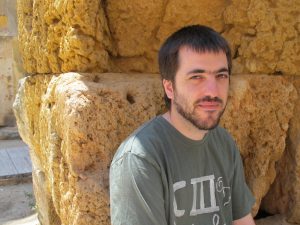 Dr. Arnau Garcia
Organizer of the Tenth IEMA Visiting Scholar Conference in 2017 entitled 'Archaeology of Mountain Landscapes: Interdisciplinary Research Strategies of Agro-Pastoralism in Upland Regions'