News
Information about the 2017 IEMA Travel and Research Scholarship is available here.
The deadline for applications is Friday, March 10, 2017 at 4:30  p.m.
The IEMA Post-doctoral Scholar Position 2017-2018 at SUNY Buffalo has been posted. Please see the Jobs section for more information
Job Opening: Assistant Professor in the Classics Department at the University at Buffalo
Upcoming Lectures presented by IEMA:
FALL 2016
Dr. Emily Holt (Museum National d'Histoire Naturelle, Paris, former IEMA Postdoctoral Fellow)
A Zooarchaeological Approach to Central Mediterranean Connectivity 1700-300 BCE
Monday, September 26, 2016 12:30-1:30 MFAC 352
AIA Lecture co-sponsored by IEMA and The Houghton Chapter, NYSAA
Professor Gregory Aldrete (University of Wisconsin – Green Bay)
The Eternal City Goes Under: Floods of the Tiber in Ancient Rome
Wednesday, September 28, 2016 5:00pm Goetz Library, MFAC 320
Dr. Arnau Garcia (IEMA Postdoctoral Fellow 2016-2017)
Archaeology of Mountain Landscapes: Interdisciplinary Research Strategies of Agro-Pastoralism in Upland Regions
Wednesday, October 5, 2016 12:00-1:00 MFAC 354
Dr. Monica Ramsey (University of Toronto)
Risk, Reliability and Resilience: Phytolith Evidence for Alternative 'Neolithization' Pathways at Kharaneh IV in the Azraq Basin, Jordan. 
Brown Bag Lecture
We would like to welcome our 10th IEMA Postdoctoral Fellow: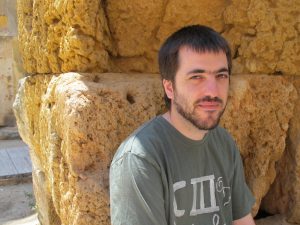 Dr. Arnau Garcia
Organizer of the Tenth IEMA Visiting Scholar Conference in 2017 entitled 'Archaeology of Mountain Landscapes: Interdisciplinary Research Strategies of Agro-Pastoralism in Upland Regions'