People
James Artz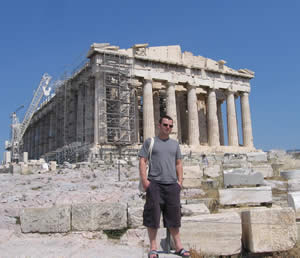 Office:
347 Porter
Email:
artz@buffalo.edu
Title:
Doctoral Candidate, Department of Classics
Teaching Assistant, Department of Classics
Associate Editor, Chronika, the IEMA Graduate Student Newsletter
Education:
M.A. 2007
Tufts University
Department of Classics
Post-Baccalaureate 2006
University of Pennsylvania
Department of Classics
B.A. 2001
University of Michigan
Departments of History and Latin, with distinction
Research Interests:
Ancient water systems, Athenian topography, theories of power, urbanization, ancient technology, social and economic history, epigraphy, historiography, fifth-century Athenian history, reception studies, late antiquity.
Current Research Projects:
Athens, Greece: Athenian Agora Excavations. Directed by Dr. John Camp
Rionero-in-Vulture, Italy: The Vulture Project. Directed by Dr. Richard Fletcher
Professional Organizations:
Archaeological Institute of America (AIA; since 2008)
Institute for European and Mediterranean Archaeology (IEMA; Associate Member since 2008)
Classical Association of the Middle West and South (CAMWS, since 2010)
Classics Graduate Student Association (IEMA student representative)
Selected Publications:
The Effect of Natural Resources on Fifth-Century Athenian Foreign Policy and the Development of the Athenian Empire. Saarbrucken, VDM Verlag, 2008.
Selected Presentations:
"Recent Excavations in the Athenian Agora," Houghton Chapter Meeting of the New York State Archaeological Association, 2010.