People
Joey Williams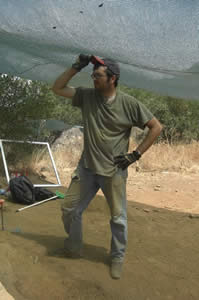 Office:
Porter 347
Email:
jlw53@buffalo.edu
Title:
PhD Candidate, Department of Classics
Instructor, PortAnta Archaeological Cooperative
Education:

MA 2007
University of Arizona, Tucson, AZ
Department of Classics
BA 2004
Hendrix College, Conway, AR
Department of Anthropology and Department of History
Research Interests:
Mediterranean archaeology, ancient industry and technology, Greek and Latin epigraphy, heritage management, Roman and Pre-Roman Iberia, environmental archaeology
Current Research Projects:
Caladinho, Portugal: Iron Age/Roman excavation. Co-director with Rui Mataloto.
Professional Organizations:
Archaeological Institute of America – Western New York Chapter (Secretary)
Archaeological Institute of America – Iberia Chapter (Associate Member)
Institute for European and Mediterranean Archaeology (Associate Member)
Classics Graduate Student Association
Selected Publications:
"The Environmental Effects of Populonia's Metallurgical Industry: Current Evidence and Future Directions," Etruscan Studies 12: 129-148. (2009)
Selected Presentations:
"Preliminary Results of the 2010 Excavation of the Fortified Structure at Caladinho, Portugal," Annual Meeting of the Archaeological Institute of America, San Antonio, TX, 2011.
"Reading an Ancient Magician's Code: the Case of the Amulet from Lisbon," Invited speaker for the Murphy Program Humanities Lecture Series, Hendrix College, 2010.
"Reconsiderations of a Greco-Egyptian Magical Amulet in the Museu Nacional de Arqueologia, Lisbon," Presented at the AIA Toronto Society Centenary Graduate Student Symposium titled Confronting the Supernatural: Magic, Myth and Ritual, 2009.
"The Social Variability of Roman Metallurgical Pollution," Presented at Servi sunt. Immo homines: Graduate Student Conference on Ancient Slavery, University of Colorado at Boulder, 2008.